African-American Homeschooling Resources
Are you looking for African-American homeschooling resources? Here are some simple, inexpensive, creative ideas you can use to teach black history and culture in your home.
As a black homeschooler, I know my children are just as intelligent as children of other cultures; therefore, I don't feel I need to specifically use an African-American homeschool curriculum.
However, I do want my children to learn that black history includes more than just slavery and the struggle for civil rights. Here are some ways we intergrate the study of African-American history and culture into our home school.
Ideas for African-American Homeschooling
In our home, black history isn't a subject or course, it is a way of life. Learning about diverse cultures and historical figures is a natural part of each day.
We have books about black heroes on our shelves right alongside books about heroes of other races. We read stories that feature black characters, we memorize poems by black poets, and when asked to give presentations at co-op, we may choose to speak about notable black figures.
If you're anything like me, you didn't learn much about black history as a child, and you may be intimidated at the thought of teaching it to your children.
However, you do not have to follow the public school model of being an expert who lectures your child. Learn black history together as a family over the course of your homeschool journey. Here are some ideas you can use for African-American homeschooling.
Design Your Own Unit Studies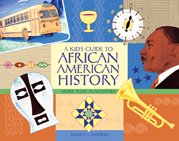 Periodically choose topics that interest you as a family, and research those subjects together. Look for books, documentaries, and artifacts, and keep a notebook or scrapbook recording what you've learned.
If you have younger children, you may want to supplement your studies with songs, games, crafts and other hands-on activities such as the ones found in A Kid's Guide to African American History.
Think outside of the box when choosing topics for your study.
In addition to studying topics that are frequently taught - like Africa, the middle passage, slavery, the underground railroad, and the civil rights movement - learn about African folktales, African art, free blacks during the slavery times, black cowboys, black explorers, black inventors, black soldiers, the Negro Leagues, the Tuskegee Airmen, the Great Migration, the Harlem Renaissance, and famous black poets, artists, musicians, and entrepreneurs.
Take a Civil Rights Tour
One of the best ways to learn history is to visit locations where significant events took place. The National Parks Service has produced a free, 75-page guide that contains essays, an itinerary, and descriptions of 49 sites of significance in the struggle for civil rights..
Follow this link to plan your civil rights tour or participate in a virtual tour of Historic Places of the Civil Rights Movement.
More Ideas for Black Homeschooling
As a home educator, you don't have to squeeze the study of your heritage into Black History Month. Learn about African-American culture right along with your study of other cultures throughout the year.
Participate events and activities that celebrate black culture, such as Harambee festivals, and courses in African drumming or African dance. In addition, look for books and magazines that discuss black history.
Kids Discover is an award-winning magazine that features informative articles, vibrant photography and engaging activities for children ages 7 through 12. You can visit their website to order back issues of magazines on the following topics for African-American homeschooling:

African Kingdoms
The Underground Railroad
Civil Rights
Martin Luther King, Jr.
Jackie Robinson
African-American Homeschool Books
Black Books Galore's Guide to Great African American Children's Books is one of my favorite resources for finding black homeschool books.
This book was written by mothers who wanted to help African-American parents find high-quality books that feature black characters and culturally relevant stories. It contains brief summaries of over 500 books that are sorted into groups for babies and preschoolers, early readers, middle readers and young adults.
The book is well-organized, visually appealing and easy to use. It identifies materials that contain nonstandard English or use of the "N" word, as well as books that are notable for winning Coretta Scott King, Newberry and Caldecott awards.
Follow this link to learn more about Black Books Galore!
African-American Homeschool Curriculum
Are you looking for an African-American history curriculum?
Blessed Heritage sells literature-based African-American history guides and unit studies that are written from a Christian perspective. The company was founded by Belinda Bullard, a married homeschool mom of three, college instructor, and writer.
To learn more about Belinda, visit her blog.
Follow this link to learn more about the African-American homeschool movement.
Claim Your Free Copy of
101 Ways to Save Money on Homeschooling!
Enter your name and e-mail address below to receive a FREE copy of 101 Ways to Save Money on Homeschooling!
You'll also join over 5,000 homeschoolers in receiving our free, monthly newsletter full of tips and ideas for Successful Homeschooling.