7 Secrets to Finding the Best Homeschool Curriculum
Are you wondering how to find the best homeschool curriculum?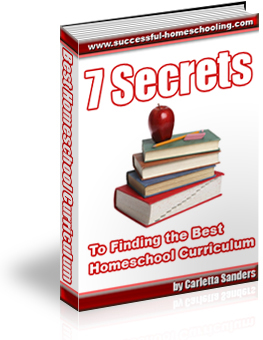 Do you feel overwhelmed at the prospect of choosing a home school curriculum from the hundreds of programs that are available?
As a new homeschooler, I spent hours upon hours going to vendor fairs, reading online reviews and discussing curricula on online forums.
I discovered a step by step process for finding the best homeschooling curriculum, and I've written a FREE e-book to share that information with you!
7 Secrets to Finding the Best Home School Curriculum will help you:
Clarify your needs and goals,
Identify your child's learning style,
Understand the many ways to homeschool,
Choose curriculum for specific subjects,
Homeschool special needs and gifted students, and
Choose programs for preschool, kindergarten and high school!
This FREE e-book also contains excerpts of interviews with the following homeschooling experts:


Valerie Bendt of Unit Studies Made Easy,
Lee Binz of The Home Scholar,
unschooler Sandra Dodd,
Corin Barsily Goodwin of Gifted Homeschoolers Forum,
Dennis Gunderson of Grace and Truth Books,
Sarita Holzmann of Sonlight,
Mary Hood of The Relaxed Home School,
Catherine Levison of A Charlotte Mason Education,
Jessica Parnell of Bridgeway Academy,
C.J. Rezak of Little Giant Steps, and
Larry Shiller of ShillerMath!

What Others Have Said About this E-Book...
I love this book! 7 Secrets to Finding the Best Homeschool Curriculum is a tremendous resource that I will be sharing with all of my clients! What a great book to help new homeschoolers navigate the curriculum maze!
The most common question new homeschoolers ask is, "Where do you get THE curriculum?" and now I have the answer - this book! This book is the perfect primer for parents, and I will be using it frequently and referring to it often.
Thank you so much for providing this resource to the homeschool community! - Lee Binz of The Home Scholar
Please Share This Link
Please do me a favor and share this e-book with your friends and homeschool group members. Simply post the following link on your blog, website, yahoo group or favorite forum:
www.successful-homeschooling.com/best-homeschool-curriculum.html
Thanks, and enjoy the journey!
Carletta
(Note: Common misspellings of the the word "curriculum" are "homeschool cirriculum" and "home school curiculum".)
Claim Your Free Copy of
101 Ways to Save Money on Homeschooling!
Enter your name and e-mail address below to receive a FREE copy of 101 Ways to Save Money on Homeschooling!
You'll also join over 5,000 homeschoolers in receiving our free, monthly newsletter full of tips and ideas for Successful Homeschooling.