Looking for a Home Based
Business Opportunity?
Usborne may be Right for You!
Are you a mom who is looking for a home based business opportunity? Usborne may be right for you!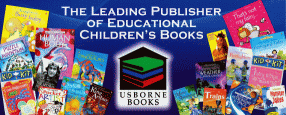 Usborne Books at Home is a provider of multi-sensory, vividly illustrated, educational books for children. Usborne has books for children of all interests and age ranges, many of which are used by popular homeschool curriculum companies.
Over 80% of Usborne's high-quality educational books are priced under $10. Here's a look at Usborne's online catalog of more than 3,500 titles.
Reasons to Join Usborne
Usborne books are primarily sold through Usborne distributors, or consultants. Consultants receive up to 25% commission on sales, as well as opportunities to earn free books, supplies, prizes and vacations.
Because they also earn comission on their own purchases, Usborne consultants receive a 25% discount on any books they buy for gifts or personal use.
Selling Usborne books is a fun and easy way to earn income from home by putting great books in the hands of children. Here is some information about my experience as an Usborne Books at Home consultant.
Here is some additional information about the Usborne opportunity: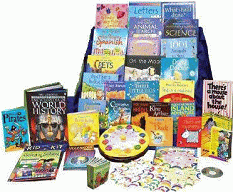 Types of Sales
Usborne books are distributed by independent consultants through a variety of methods. Consultants can earn commission on sales through any combination of the following:
Web Sales - Usborne representatives are provided with e-commerce websites like this one. Consultants can refer friends to their websites to make a purchase, or set up e-shows where customers can earn free books in exchange for sharing Usborne books with others.


Home Shows - When I joined Usborne, I was determined not to do home parties. However, I have found that home parties are a fun and easy way to earn income.

At a home show, the hostess invites friends and family members to her home where the consultant tells them about some of her favorite Usborne titles. The hostess earns free books, the guests are exposed to great educational products for their children, and the consultant earns commission on all purchases made.

Home shows are a win/win scenario for all involved!

Book Fairs - Consultants can also host book fairs and reading incentive fundraisers for churches, hospitals, schools, libraries, homeschool groups and other organizations. The consultant receives commission on sales from the book fair, and the organization receives cash, free books or a combination of the two.


Booths - Consultants can set up booths at stores, conferences, meetings, fairs and festivals. These fun events are a great place boost sales and expose people of all ages to Usborne's wonderful books.


School and Library Sales - Usborne Educational Consultants can build relationships with and sell to schools and libraries. School and library personnel know good books when they see them, and Usborne books are among their favorites.
Income
Income is primarily dependent on how much time is invested in the business. Consultants who work full-time to build their businesses can eventually earn corporate salaries.
Some consultants are content to work part-time to earn money for homeschool curriculum, activities and vacations or to supplement the family income. Others simply join Usborne to earn a discount on personal purchases.
You set your schedule and determine your income based upon on your goals and desires.
Here's some additional information about income opportunities with Usborne.
Sales Requirements
Usborne consultants are not required to meet any minimum monthly, quarterly, or annual quotas. Your only requirement as an Usborne consultant is that your sales reach $85 net (or approximate $125 retail) during your first 12 weeks with the company.
You can reach that goal through a personal purchase, website sales, a home show, or a series of direct sales to friends and aquaintances. Once you meet this one-time requirement, you can sell as much or as little as you desire.
Training
Your Usborne consultant kit will come with a training manual, DVD and CD. In addition, you will have access to Usborne's online message boards, and downloadable training materials and forms.
You will also be provided with a monthly newsletter, and e-mail, online chats, and telephone calls from your supervisor. You do not have to live in the same city or state as your supervisor in order to receive great training. Some of my most successful consultants live outside of my geographical area.
Investment
There are two ways to begin an Usborne book consulting business. Both methods provide you with a website, ordering software, all of the supplies you need to get started, and a training manual, CD and DVD.
Usborne's business kit comes with 33 of the company's most popular books for a variety of interests and age ranges. This kit has a retail value of $423, and is offered to consultants for the low price of $199.
Every month, Usborne offers a special starter kit which also provides everything you need to get started, but contains fewer books than the business kit described above.
Inventory
Usborne distributors are not required to carry inventory. Those who join Usborne using the smaller starter kit can add to their display collection with free books earned during their training period, if they choose to do so.
During my 12 week incentive period with Usborne I earned over $500 in FREE books!
Frequently Asked Questions
Here are some answers to frequently asked questions about starting an Usborne Books at Home Business.
Please feel free to contact me for additional information. Usborne has greatly benefited my family, and I'd love to tell you more about the Usborne opportunity.
Claim Your Free Copy of
101 Ways to Save Money on Homeschooling!
Enter your name and e-mail address below to receive a FREE copy of 101 Ways to Save Money on Homeschooling!
You'll also join over 5,000 homeschoolers in receiving our free, monthly newsletter full of tips and ideas for Successful Homeschooling.