Homeschool Transcript
Are you intimidated by the mere thought of preparing a homeschool transcript for your high school student? Check out Lee Binz' Total Transcript Solution!
Homeschoolers are a tight-knit group, and I first noticed Lee Binz of The Home Scholar as I visited different online communities sharing information about homeschooling.
I was immediately blown away by her high-quality, informative website, and I soon asked her to help me bring you information about homeschooling high school. She allowed me to review her e-book, The Easy Truth About Homeschool Transcripts, and again, I was blown away.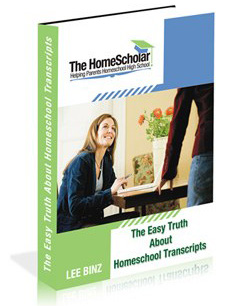 The Easy Truth About Homeschool Transcripts
In her book, Lee shares from her personal experience of creating transcripts that helped both of her sons win full scholarships to their first choice universities.
Each transcript was created without the help of fancy software or an expensive accrediting agency. Lee's book provides you with step-by-step tools that can help you do it, too!
The Easy Truth About Homeschool Transcripts contains:
an explanation of the purpose of transcripts,
information about details that should be included on a home school transcript,
simple instructions for calculating credit hours, grades and grade point average,
a planning guide for high school, and
samples of Lee's scholarship-winning home school transcripts.
Since I've yet to homeschool high school, I opened this e-book preparing to be a bit confused. However, the book is written in a friendly, easy-to-understand manner that made the process of preparing transcripts crystal clear. Instead of feeling overwhelmed, the book left me excited about the prospect of teaching my children through high school and preparing them for college.
This book can be used by textbook homeschoolers, unschoolers and everyone in between, and contains an excellent chapter on delight-directed learning and giving credit for courses where no textbook was used.
You will find this book useful whether you're at the beginning, the middle or the end of your high school journey. And best of all, if you still have questions upon reading the book, you can ask them of the author herself during the one month's worth of FREE weekly personal coaching you get when you purchase Lee's Total Transcript Solution.
The Total Transcript Solution
In addition to containing a step-by-step guide to preparing transcripts, The Total Transcript Solution includes:
a one-hour audio course,
access to Lee's homeschool transcript templates,
one month of free weekly coaching and document review, and
a free one-month membership to Lee's Gold Care Club that provides you with access to video training courses, expanded templates and tools, and additional training materials that will help you homeschool high school.
I spent an entire morning perusing Lee's Gold Club Care materials, and I was thoroughly impressed by breadth and depth of information she provides.
As a busy homeschooler, you don't have time to spend hours upon hours conducting research about high school.
Take advantage of the work Lee has done for you to prepare how-to videos, provide information on standardized tests and college scholarships, create college preparation guides, give curriculum advice, share links to the web's best homeschool resources, and write articles that are so amazingly informative, I had to return to the Gold Care Club again... and again... and again...
Follow this link to purchase instant access to Lee's Total Transcript Solution!
Claim Your Free Copy of
101 Ways to Save Money on Homeschooling!
Enter your name and e-mail address below to receive a FREE copy of 101 Ways to Save Money on Homeschooling!
You'll also join over 5,000 homeschoolers in receiving our free, monthly newsletter full of tips and ideas for Successful Homeschooling.