Moms Work at Home Online
using SBI!
Many women are turning to blogs and online business in order to earn income without leaving their families. Here's some information about how moms work at home online using SBI, along with the story of how I built this website.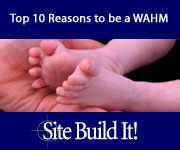 Building a Blog
During the Summer of 2007, I started a blog to keep a record of my family's activities and share homeschooling information with my friends and fellow homeschoolers.
A friend told me I could turn my blog into an income opportunity for my family. She told me about Site Build It! (or SBI!), a company that teaches people how to earn money by building websites that provide FREE information to others. After seeing the success of a trusted friend, I decided to give it a try.
Building a Website
When I joined SBI!, the extent of my technical knowledge was a few HTML codes. Guess what? That's still all I know!
SBI! walked me through process of selecting a topic, securing a domain name, designing my website, writing content, and creating and marketing my site. It also provided me with all tools and education I needed to build and host my website, and produce a monthly homeschool newsletter.
Once I'd created my site, SBI! taught me how to bring traffic, or visitors, to my website. When a person searches for information through a search engine like Yahoo or Google, the search engine goes through a process of determining which websites will appear in the results it displays.
SBI! taught me to build and promote my website in a manner that helped my pages rank highly in the search engine's results. Some of my pages now appear in the top 5 results for homeschool related searches on Google, Yahoo and MSN Live.
After 4 months with SBI, my website was ranked among the top 1% of all websites on the internet. Every day that I see my website climb in the rankings, I know that I am introducing more people to a subject that will benefit their families. Even better, I am providing this information FREE of charge!
Here are a few of the many comments I've received from my site's visitors:
"Thank you for this site! My husband and I aren't parents yet, but we're planning for that day :) I've been interested in homeschooling for a while, and your site is really an inspiration. Thank you and God bless!"
---
"Hi, I just turned 14 years old, and was going to go into 9th grade next year - but I have made the decision to homeschool. I want to thank you for encouraging me to choose this wonderful path! I am so much happier and my family, though always close, now is full of pure love. I am able to pursue my interests and connect with nature and other people... Once again, thank you for giving me the confidence and support to make the transition into home schooling! Never stop doing the great things you do!"
---
"I just wanted you to know that I love your website. I have not been able to find real, useful information on the subject of homeschooling anywhere else. Please keep up the great work!"
It's so rewarding to receive messages like this in my inbox. What better way to make a living?
Building an Income
My husband is an analytical thinker who purchased SBI! thinking it wouldn't bring in much income, but would be a good hobby for his wife. He changed his tune when my first Adsense check arrived!
Most of the income I earn from my site comes from the ads you see may have seen on some of my pages. I also earn money through affiliate income, or commission from products that I recommend to visitors.
I chose Usborne Books at Home as my main affiliate because they sell high quality, educational books that are used with a variety popular curriculum companies. I also chose Usborne because my children love their books!
Because I will only recommend products I truly believe in, you will see very few affiliate programs on this site.
SBI! sites can also be used to sell e-books, enhance a network marketing business or promote local goods and services.
Building a Legacy
SBI! is not a get rich quick opportunity. The income I earn from my website will build over time.
I earn income for my family without getting up at the break of dawn, putting on fancy clothes, and leaving my home and my children. Better still, my site is working for me while I lounge with my husband, play with my kids, and even while I am asleep!
This website will eventually provide my family with residual income - meaning I will continue to make money from my past efforts even when I am not actively working on this site.
My husband and I want to work together to build a family business to hand down to our children. This website is our first step in that direction. This opportunity is available to your family as well.
Do you want to earn money for homeschool curriculum, homeschooling activities, or a family vacation? Do you want to supplement your husband's income or become a stay at home mom?
What do you love doing, reading about, talking about or learning about? What passions and gifts do you have to share with others?
Here are some answers to frequently asked questions about turning your passion into income using SBI.
Please contact me for more information about how you can work at home online.
I look forward to hearing from you!
Carletta

Claim Your Free Copy of
101 Ways to Save Money on Homeschooling!
Enter your name and e-mail address below to receive a FREE copy of 101 Ways to Save Money on Homeschooling!
You'll also join over 5,000 homeschoolers in receiving our free, monthly newsletter full of tips and ideas for Successful Homeschooling.