Preschool Art
I am a type A, color inside the lines type of mom, but even I enjoy preschool art. I have learned to relax, and focus on process, not the final product. I am often surprised by children's inventiveness.
I have a "junk box" in our schoolroom where I put old cereal boxes, plastic containers, toilet paper rolls, and scraps of fabric that my children can use for crafts. Here is a boat my son made out of a shoebox, straw, and plastic cup: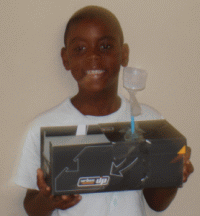 Setting up an Art Center:
One way to encourage creativity is to set up an art center in your home. Keep supplies easily accessible, but have your child ask for permission to use materials such as paint, glue and glitter.
Provide your children with oversized t-shirts to use as art smocks. Teach them to place an old sheet on the floor before beginning and clean up after themselves when they are finished.
Purchase different types of paper, such as butcher paper, computer paper, construction paper, tissue paper, doilies, envelopes, finger paint paper, manila paper, newspaper, paper plates, roll paper, sand paper, and wrapping paper.
You may also want to keep the following available:
cardboard boxes
cardboard tubes
tempera paint
water colors
brushes
sponges
chalk
markers
crayons
colored pencils
stencils
erasers
paint chips
feathers
glue
sequins
glitter
beads
buttons
pompons
google eyes
fabric
scissors
tape
yarn
ribbon
empty spools of thread
My children also like using the hole punch and stapler with my help and supervision.
Preschool Art Resources
Pre-planned art projects can give your children direction when they don't know what they want to create. They also help children create finished products to show off to family and friends.
When using pre-planned art activities, look for simple projects that have step-by-step instructions, use inexpensive household materials, are easy to set up and easy to clean up. Here are some resources your children may enjoy:
| | |
| --- | --- |
| | Things to Make and Do contains simple art activities for preschoolers. It also includes stickers your child can use to decorate projects. |
| | Drawing books like I Can Draw People are great resources for an art center. I sometimes tape a sheet of butcher paper to the floor, give my children this book and let them draw to their heart's content. I also take this book with us when we'll be spending time waiting in a doctor's office or other quiet location. |
Follow this link to find out why I recommend Usborne preschool books and learn about additional resources your preschooler will enjoy.
Additional Teaching Tips and Ideas
Here are some ideas for a fun art activity. Here are some tips and ideas for teaching:
Preschool math,
Preschool writing,
Preschool reading,
Preschool science, and
Preschool physical education.

Claim Your Free Copy of
101 Ways to Save Money on Homeschooling!
Enter your name and e-mail address below to receive a FREE copy of 101 Ways to Save Money on Homeschooling!
You'll also join over 5,000 homeschoolers in receiving our free, monthly newsletter full of tips and ideas for Successful Homeschooling.