101 Ways to Save Money on Homeschooling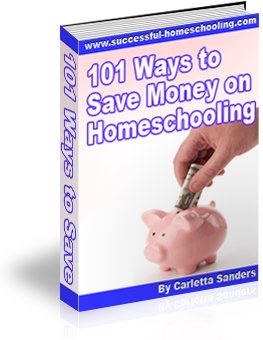 Are you wondering if you can afford to pay for homeschool books and curriculum?
Are you looking for ways to use your resources more wisely so you can pay off debt, save money and help others?
Like many Americans across the country, we've been looking for ways to reduce our expenses and save money for the future.
I've written a book that can help you save hundreds of dollars, and you can download it here absolutely FREE!
Fill out the form below, and you'll receive a FREE e-book that will show you:
What to buy,
Where to buy it,
Where to find freebies,
How to have fun on a budget, and
How to earn income without leaving your home.
You'll also receive a subscription to our monthly e-zine, which contains additional tips and ideas that will enrich your homeschool journey.
Fill in your name and e-mail address below, and you'll receive a message asking you to confirm your e-mail address to be sure no one submitted it without your knowledge. You will then be taken to a link where you can download your FREE e-book.
Download your FREE copy of
101 Ways to Save Money on Homeschooling!
Please Share This Link
In economic times like these, you are either struggling financially or you know someone who is struggling.
Please do me a favor and share this e-book with your friends and homeschool group members. Simply post the following link on your blog, website, yahoo group or favorite forum:
www.successful-homeschooling.com/101-ways-to-save.html
Thanks, and enjoy the journey!
Carletta