Built-In Bookshelves, Refurbished Desk and Cubbies
by Jennifer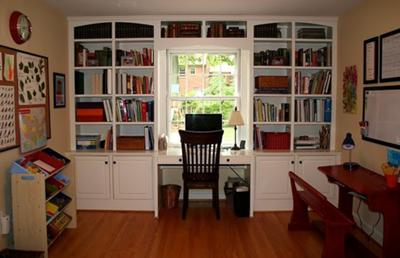 Bookshelves and Desk
Jennifer stores books on the beautiful built-ins in her schoolroom, and uses the attached desk for a work space.

Her child's desk was taken from a neighbor's trash, and the bins in her home school room hold toys, math manipulatives, blank paper, games, and puzzles.

You can view more photos on Jennifer's blog.
Help other homeschoolers by sharing your experiences. How? Simply click here to write a review, share your schedule or post a photo of your schoolroom.
You Might Also Like: