Homeschool Schoolroom
Setting up a homeschool schoolroom is a great way to keep books and supplies organized, and keep everyone in the same room during school time.
Some families have an unused room in their home that they use to create a homeschool classroom. Others store materials in each child's room and meet each day to work at the dining table. And others set up school areas in a corner of another room.
Our Homeschool School Area
Here are some photos of the formal living/dining area we turned into a combined playroom and school room:
School Table and Chairs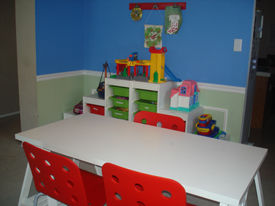 Books


Toys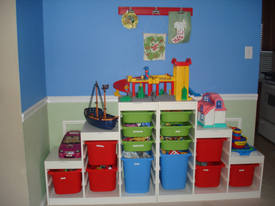 Dress Up Clothes and Props


My Desk Area


Our schoolroom also includes a keyboard, keyboard stand and bench that my daughter uses to practice piano. You may also want to consider placing a computer and stereo in your school area.
Tips for Setting up a Home School Classroom
Consider your children's personalities and learning styles when setting up your school room. Do your children learn best at a table or while lounging on bean bags? Will your children find wall maps, timelines and other visual aids distracting or educational?
Also make sure the room's temperature, lighting, and levels of noise and activity are comfortable for your children.
Remember, your school area does not have to be expensively furnished and decorated. You want an area that meets your family's needs, not one that impresses the neighbors.
Here are some additional ideas for homeschool rooms.
Scroll down to the bottom of the page to view
photos of other school rooms!
You can help other homeschoolers by sharing a photo of your school room using the form below.
Share Your School Room Photos!
Is your homeschool school area serving you well? Help inspire other homeschoolers by posting a description and photo of your schoolroom.
More Schoolroom Photos
Do you want see photos of other homeschoolers' classrooms? Click on the links below to view more homeschool schoolrooms...

Claim Your Free Copy of
101 Ways to Save Money on Homeschooling!
Enter your name and e-mail address below to receive a FREE copy of 101 Ways to Save Money on Homeschooling!
You'll also join over 5,000 homeschoolers in receiving our free, monthly newsletter full of tips and ideas for Successful Homeschooling.