Cheery and Comfy Schoolroom
by Kellye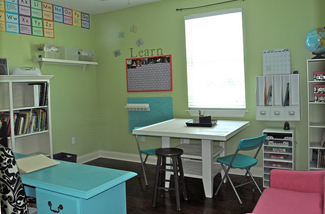 Kellye's schoolroom is bright, cheery and spacious. It contains storage units, a work table, Kellye's desk, and a sofa for cuddling up for read alouds.

You can learn more about this school room on Kellye's blog.
Help other homeschoolers by sharing your experiences. How? Simply click here to write a review, share your schedule or post a photo of your schoolroom.
You Might Also Like: