Fabulous Built-Ins and Converted Closet
by Kayce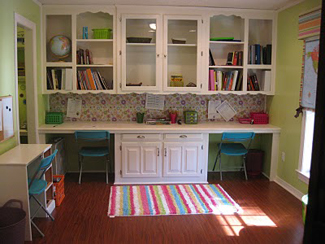 Built-In Desk and Shelving
Kayce's homeschool room contains a fabulous built-in wall unit that contains cabinets, shelving and two desks.

She also converted a walk-in closet in her schoolroom into a computer closet.

She even optimized her wall space by turning attaching a map to her window shade. Very cute!

You can learn more about the remodel and get some great ideas by visiting Kayce's blog.
Help other homeschoolers by sharing your experiences. How? Simply click here to write a review, share your schedule or post a photo of your schoolroom.
You Might Also Like: