Serene, Yet Visually Appealing Homeschool Room
by Bekki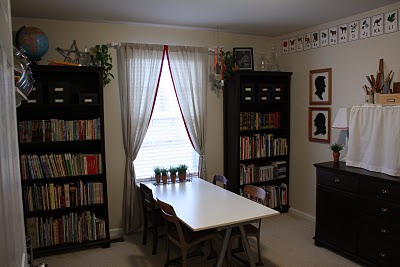 Schoolroom
Bekki used a globe, a flag, art supplies and alphabet letters to add flavor to the simple decor in her homeschool room.

She says, Behind the curtain is a large filing box that holds all of our paperwork, on top is more storage and office supplies. Inside are things like wooden puzzles, math manipulative's, lacing shapes, Leapsters, and coloring books, all easily accessible, but out of sight.

This chalk board was given to me by a dear friend who homeschooled her children, on the shelf above are crayons, markers, colored pencils, pattern shapes, and paint.

I love this clutter-free, peaceful design. You can read more about this school room at Bekki's blog.